PARADISE MILL
OUR NEW "HOME"
CYGNETS is delighted that we now have our own 'Home" at Paradise Mill Macclesfield, following extensive refurbishment and modernisation of the wonderful Grade II listed building. 
This is a huge step forward in our story as, since being established in 2010, we have rehearsed and performed our shows and events in many venues, entailing massive "get-in's' and lifting and shifting of set, props, sound and lighting equipment and costumes, etc.
With the help of friends, parents and the maintenance team at Paradise Mill, a huge amount of refurbishment, painting and renewal of the polished wood floor took place over 3 months so as to transform the disused Mill space
into an amazing multi-use performance and event space.

 

We have also kitted out the facility with equipment to satisfy a variety of uses, including sound, lighting, projector and screens, staging and

 

raked seating; and with a new kitchen and hospitality area, we can cater for parties and functions. 
Our Grand Opening took place on Saturday 9th July 2022 and was officially opening by the Mayor of Macclesfield, Councillor Fiona Wilson, who gave a wonderful speech and acknowledged the lack of facilities such as ours in the Macclesfield area, and how well we had managed the refurbishment to be in keeping with the character of our Grade II listed building status.
We are now accepting applications for short and long-term lets, including conferences, social events, and
 

groups such as yoga, pilates, language classes, a choir, etc, who wish to run activities out of the mill during the week.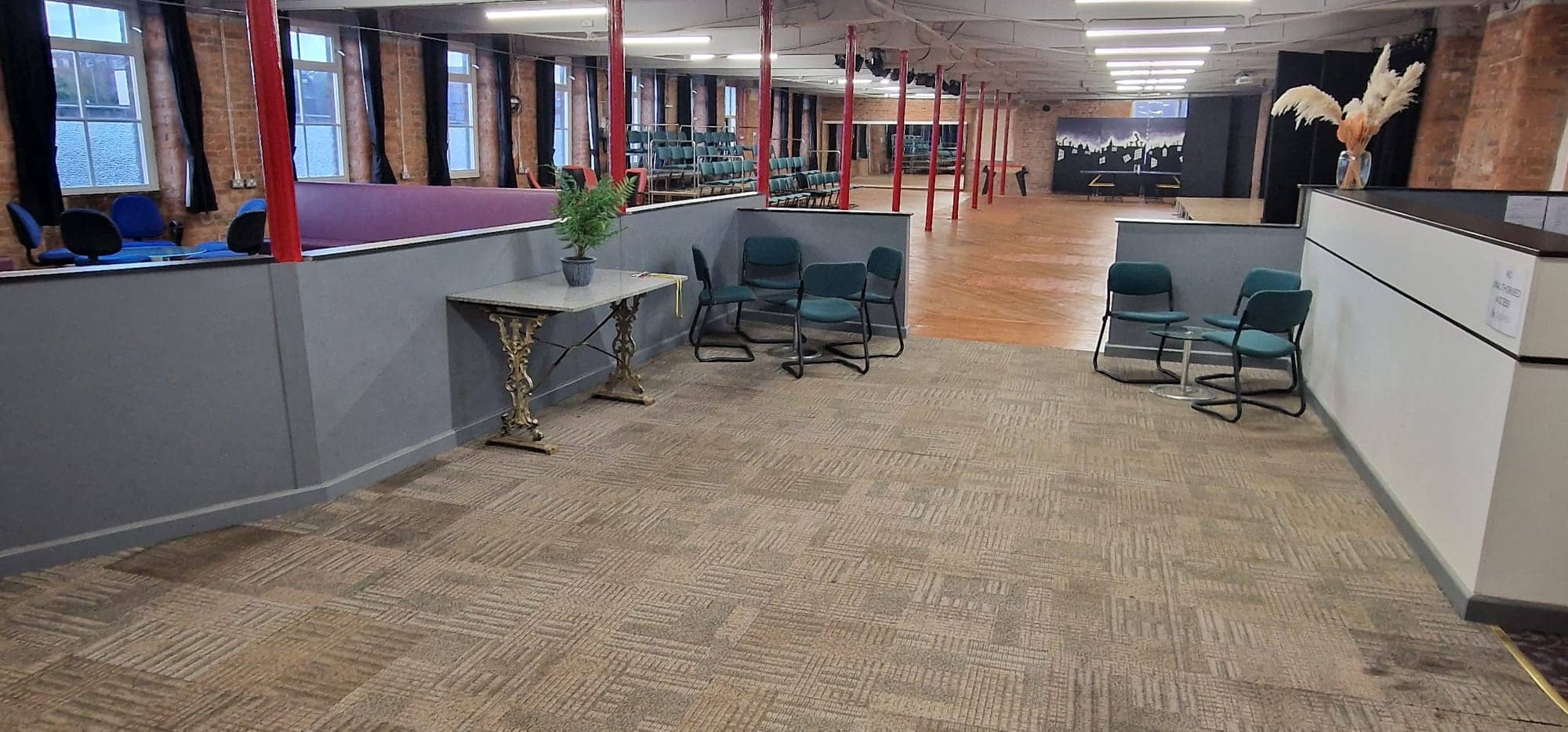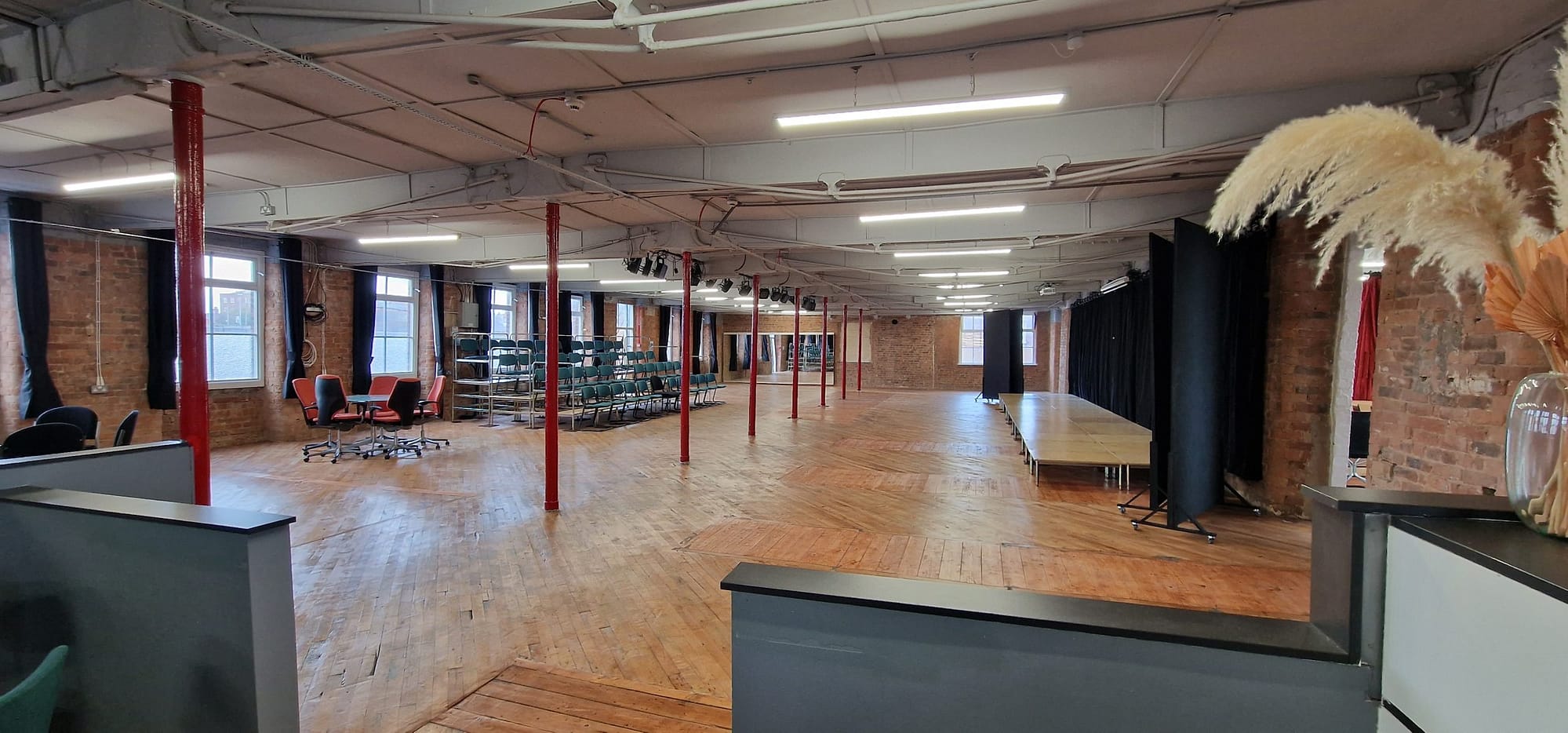 THE REFURBISHMENT
When we first saw Paradise Mill, it was an unused space with a lot needing doing to make it fit for purpose.  But Kalini could see the potential and had a Vision as to how it could be transformed into a performance space with staging, seating, sound, lighting and hospitality area, suitable for multiple uses.
The space needed a kitchen as there was none, the old changing rooms refurbished into new toilets, mirrors taken down and replaced to make them safe, windows replaced, walls and ceilings painted, and a huge amount of clearing and cleaning.
But by far the biggest challenge was the floor throughout the 590 sq metres, which was quite damaged.  Much effort and many man hours went into sanding the floor which revealed a beautiful hardwood.  With further repair work, we now have a lovely surface to work with.
Huge thanks must go to Martin Allmond-Smith's team of Mark Newbigging, Sean and Tony for the refurbishment and fitting out of the kitchen, toilets, repair work and painting.
We are also extremely grateful to the many parents who helped including Ashley and Liz Jackson, Kath and Phil Rose, Lyndsey Markland-Clay for our beautiful wall mural, Becci Peart, Simon Leah, Becky Poulton, Cath Henderson, my husband David and several others.  It was a huge team effort, especially with the 2nd fix, and the young people of CYGNETS and their parents are all reaping the rewards.
Our Grand Opening took place on Saturday 9th July 2022 which was attended by many, and with our Mayer Councillor Fiona Wilson "cutting the ribbon" and making a speech.
We are continuing to make gradual improvements so that we now have a sound and lighting rig, a screen and projector, a fully functional fitted kitchen and hospitality area, and numerous seating and staging options. We are finding the facilities perfect for our groups' rehearsals, and have already staged a few shows.
We do welcome any visits to see what we have achieved, so please do feel free to contact us.